Data Recovery
Damaged hard drive? STOP!
Don't make it worse!
Trust your hard drive with data recovery professionals!
Lost data can usually be recovered immediately regardless of whether the hard drive has crashed, been damaged, or experienced a natural disaster. Hard drive data recovery and file recovery involves more than just replacing parts. We use cutting-edge recovery tools and proprietary processes to ensure the most successful outcome – the result of continual investment! Sample professional tools and techniques include: • Cleanroom Environment: Hard disk recoveries related to mechanical failure are performed in dust-free cleanroom environments where they are carefully dismounted, examined, and processed. • Drive Imaging: Damaged or failed hard drives are imaged to a working environment, providing the most complete data recovery possible. When there is physical media damage, we use our recovery tools to read around the damaged area.
Note: Trying this on your own or through an inexperienced data recovery provider may lead to further damage to the drive.
Contact Us
Here are some of the most common data failures that we have service for:
Apple Mac
Data Recovery Service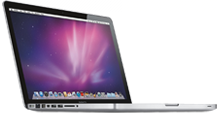 Most of Mac devices are recoverable.
Please contact use for more information and what kind of media can be recovered.